Live Healthy with Chiropractic Care in North Central San Antonio, TX
Aloha Wellness is your one-stop-shop for chiropractic care in North Central San Antonio, TX. Many of the conditions we treat involve dysfunctions related to nervous system interference. They include chronic pain, inflammation, and reduced mobility due to poor posture, aging, or poor nutrition. Our board-certified chiropractor, Dr. Clayton Clark, can combine routine chiropractic adjustments with nutrition and lifestyle counseling to help you improve and maintain your health.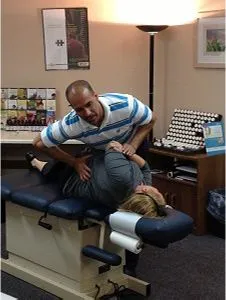 What is Chiropractic Care?
Chiropractic is a type of integrative wellness care offered by Doctors of Chiropractic, also known as chiropractors. Treatment involves non-invasive and drug-free techniques and therapies that are safe for newborns, children, adults, seniors, and even pregnant moms.
Chiropractic adjustment of the spine, cranium, and extremity joints is a technique performed to relieve pain, improve mobility, and re-establish proper functioning of the musculoskeletal and nervous systems. The Diversified, Gonstead, and Activator Method are common types of non-surgical techniques used to reposition the joints and soft tissue that moved out of alignment.
Conditions Our North Central San Antonio Chiropractor Can Treat with Chiropractic Care
Poor posture, overuse, and aging eventually take effect on the spinal joints, bones, discs, and connective tissue. When this happens, neck or low back pain can develop and inhibit everyday function. Some patients are trouble with chronic back pain or neck pain due to spinal misalignment, herniated or bulging discs, sciatica, or pinched nerves. A condition called sciatica is also known to affect older adults. It typically develops when a damaged or protruding disc irritates the sciatic nerve. Fortunately, these are all conditions a chiropractor can provide natural relief for. Other common conditions treated with chiropractic include:
Muscle strains
Auto accident injuries like whiplash
Headaches and migraines
Joint inflammation like osteoarthritis
Pediatric issues, such as infantile colic, allergies, asthma, and ear infections
Chiropractic Care Benefits
Scientific evidence shows that removing nervous system interference allows the body to heal itself naturally. Spinal adjustments are performed based on this core belief. This technique is performed by hand or with a small instrument and has multiples benefits. They include:
Relieving pain by addressing the root cause of the symptoms
Improving communication between the brain, spine, and body
Increasing joint flexibility
Boosting the immune system
Increasing energy and vitality
Slowing joint and tissue degeneration
A Drug-Free Way to Enhance Your Quality of Life
At Aloha Wellness, we typically proceed with treatment after a complete medical evaluation and decision that chiropractic care or nutritional counselingin North Central San Antonio, TX, is right for you! Call (210) 377-3379, and one of our friendly staff will help schedule your appointment with Dr. Clark.